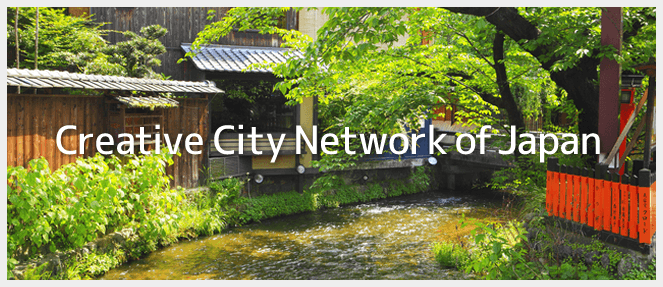 About the Network
The Creative City Network of Japan (CCNJ) was established on January 13, 2013 as a platform to promote cooperation and exchange among creative cities in Japan and in the world as well as to support a variety of organizations such as local governments that promote (or trying to promote) the efforts of creative cities. Its purpose is to spread and develop creative cities in our country. CCNJ plays a role as a hub function of exchanging every information, knowledge and experience on creative cities. Its fundamental role is to maintain support for organizations that take action. It aims to be a foundation to construct a peaceful and symbiotic Asian creative city network as well as to contribute to the reconstruction and regeneration of Japanese society by spreading and developing creative cities in our country.
What we do
Hold a network conference
We hold network conferences in order to support various organizations such as local governments that promote (or try to promote) the efforts of creative cities, and promote construction of its human network and information exchange.
Hold seminars and trainings
We hold seminars and trainings such as "The Creative City Policy Seminar" for the public awareness of creative cities and for human resources development of people who will take responsibility of creative cities. At the same time, we will introduce lecturers of seminars and trainings and arrange them at the request of local governments.
Information transmission
We transmit information to promote public awareness and the exchange of creative cities, which include this website.

Join the conversation on Facebook
International exchange
We interact with creative cities from overseas for the development of creative cities in Japan, and promote the efforts of creative cities in our country as an international network coordinator. We provide creative city officials from overseas with information, and contribute to the cooperation of creative cities in East Asia.
Research and study / proposal
We collect information and conduct research studies about creative city policies inside and outside of Japan, and support local governments that will start new initiatives. We also provide a variety of proposals as a think tank of creative cities.
Members
Municipalities(89)
Hokkaido(5) >> Sapporo, Bibai, Higashikawa, Biei, Kenbuchi
Tohoku(12) >> Hachinohe, Sendai, Tagajo, Kami, Semboku, Yamagata, Tsuruoka, Nagai, Iwaki, Shirakawa, Kitakata, Date
Kanto(10) >> Toride, Nakanojo, Saitama, Soka, Fujimi, Matsudo, Sakura, Toshima-ku, Yokohama, Odawara
Chubu(14) >> Niigata, Sanjo, Tokamachi, Tsunan, Takaoka, Himi, Nanto, Kanazawa, Kiso, Kani, Shizuoka, Hamamatsu, Mishimam, Nagoya
Kansai(17) >> Nagahama, Kusatsu, Moriyama, Koka, Kyoto, Maizuru, Nantan, Yosano, Osaka, Sakai, Kobe, Himeji, Toyoka, Sasayama, Nara, Ikaruga, Asuka
Chugoku(8) >> Izumo, Okayama, Maniwa, Hiroshima, Onomichi, Ube, Yamaguchi, Iwakuni
Shikoku(4) >> Kamiyama, Takamatsu,Matsuyama,Kochi
Kyushu(9) >> Kitakyusyu, Kurume, Chikujo, Kumamoto, Taragi, Oita, Beppu, Taketa, Ishigaki
Prefecture(10) >> Saitama, Kanagawa, Shiga, Kyoto, Hyogo, Tottori, Tokushima, Kagawa, Saga, Oita
Organizations
Arts Aid Tohoku, Arts NPO Link, Iwate Art Support Center, ACO Okinawa, Okayama Symphony Hall, Okinawa Culture Promotion Organization, Music culture creation, KANSAI・OSAKA 21st Century Association, NPO Kids fun, Kyoto City music and cultural Promoting Foundation, Kyoto Arts and Culture Foundation, Creative Association, NPO Green Valley, NPO Koganecho Area Management Center, NPO SAORI hiroba, Shiga Prefecture Foundation for Cultural Promotion, Shiga Next Generation Culture and Art Center, Suruga Institute of Deveropment and Area Manegement, Daidogei World Cup Executive Committee, NPO Dance Box, Creative City Consortium, BIRD Theatre Company TOTTORI, Niigata City Art and Culture Promotion Foundation, NLI Research Institute, Association of Japanese Symphony Orchestras, Japan Fashion Associaiton, NOTE, Hyogo Arts & Culture Asociation, Biwako Hall, Fukuoka Prefecture Cultural Group Federation, BEPPU PROJECT, Yamagata International Documentary Film Festival, YAMAMOTO Noh theater, Yokohama Arts Foundation
Contact Us
Creative City Network of Japan Secretariat
The secretariat of Creative City Network of Japan is located in Niigata, Japan. Secretariat staffs are housed at Niigata City Hall.
Policy Planning and Coordination Section
Phone: +(81) 25-226-2554
E-mail: bunkasozo@city.niigata.lg.jp
Address:1-602-1 Gakkouchodori Chuo-ku Niigata Japan 951-8550